The Nammor hookah hose is a detachable and 100% washable hose that is great addition to any hookah.
The hose comes in 8 different colors and has a plastic lining in the inside for easy cleaning.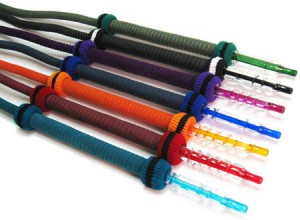 The Nammor hookah hose is perfect for those looking for a washable hose to match the color of their hookah.
The hose is manufactured by Hookah-Shisha, the same people who bring you Romman tobacco.  This hose features large diameter tubing and a detachable mouth piece to ensure easy cleaning and great air flow. The hoses comes in various colors such as black, blue, green, red, orange, purple, turquoise, and yellow, so you have a lot of options, especially if you looking to match the color of your hose to your hookah base.
The size of the hose can make it difficult to use with smaller hookahs such as the Mya QT Hookah. You can easily knock over your hookah if you're not careful, so it's recommended to use the Nammor hose with larger more stable hookahs.
Overall this hose is great for anyone who needs a washable hose that will last an untold amount of time. The pulls are effortless and smooth, using the Nammor hose ensures a very enjoyable smoking experience.
You can purchase the Nammor Hookah Hose from Hookah-Shisha for $18.95 (65″) or $21.95 (72″).