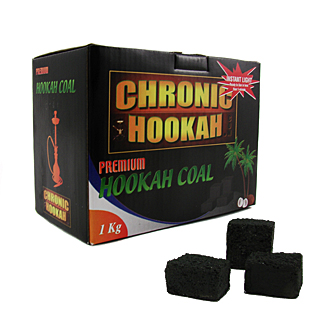 Made from compressed coconut shells, these 100% natural coals light easily, burn up to 3 times longer and they are eco-friendly. Chronic Hookah Coals are becoming the natural coals of choice for many hookah beginners and experienced pros alike!
Chronic Hookah coals have absolutely no taste and will not effect the flavor of your shisha. These coals have great heat management and burn very well, meaning less coals needed for each bowl. The ash stays in place with the coals during the entire session, leaving no mess.
Each box contains approximately 120 pieces and will last roughly 45-60 bowls depending on how many you use each time.
We found these coals to be comparable to Coco Nara in many ways and the only real difference we found was the price.
Rating:





You can purchase Chronic Hookah Coals from Hookah-Shisha for $13.95.