Al Tawareg Citrus Mint offers a flavorful taste of lemon mixed with a mild mint flavor.
Al Tawareg Citrus Mint offers a realistic lemon flavor that is tart but not candied flavored like other popular lemon shishas.
Smell & Flavor: Right out of the box you pick up the strong lemon scent with a mild mint flavor. The flavor describes it as a citrus mint but we only picked up a lemon flavor instead of the typical citrus medley.
Smoke: The smoke quality was better than some of the other Al Tawareg flavors we have tired, the smoke was sufficient but not very impressive.
Buzz: The buzz was moderate, but very relaxing.
Duration: Just over an hour in a standard Egyptian bowl. The flavor was quickly lost after the first hour.
Overall the Al Tawareg Citrus Mint shisha offered a unique take on citrus flavored shisha by providing a realistic tasting and tart lemon flavor with mild mint undertones.
Rating:





You can buy Al Tawareg Wild Mango from Hookah-Shisha for $2.45 [50g]
For our second Al Tawareg review we decided to try out the Wild Mango flavor, with surprising results.
Smell & Flavor: The smell out of the box was just like a candied mango, very sweet smelling. The flavor of the smoke was a strong mango flavor, not as candied as the smell out of the box.
Smoke: Large clouds, thick robust smoke, very smooth.
Buzz: Very Minimal Buzz
Duration: About an hour in a standard clay bowl using coco naras.
Overall the Wild Mango flavor offered great smoke quality, but the candied mango flavor was not something we were very impressed with, we prefer a natural mango flavor instead.
Rating:





You can buy Al Tawareg Wild Mango from Hookah-Shisha for $2.45 [50g]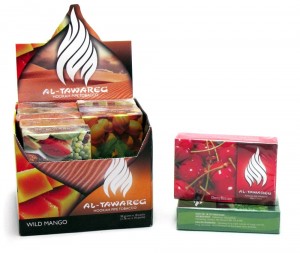 We just got in our shipment of Al Tawareg shisha! For this review we decided to use Al Tawareg Tangy Orange.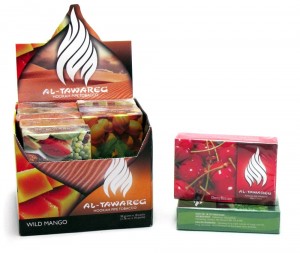 Hookah-Shisha.com, the leading online hookah and shisha retailer and maker of Romann tobacco, has just released a new line of shisha tobacco, Al Tawareg!
Al Tawareg, pronounced Al Ta-Whar-Egg, translates to "The Wondering Nomad" and is intended to be the affordable alternative to their popular Romann shisha tobacco.
Produced in Jordan, Al Tawareg is a washed shisha that will deliver a light to moderate buzz and smooth flavors much like Al Fakher.
Al Tawareg is currently avaiable in 50g sizes for $2.45 each, coming in a range of flavors from the traditional flavors like double apple to contemporary flavors like dark chocolate and california dream.
There are currently 36 different flavors to choose from, and will be available in larger sizes in the near future. We are looking forward to our order of this shisha to review in the coming weeks!
You can purchase Al Tawareg for $2.45 [50G BOX] From Hookah-Shisha!