Al Tawareg Tangy Orange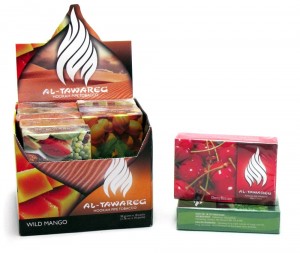 We just got in our shipment of Al Tawareg shisha! For this review we decided to use Al Tawareg Tangy Orange.
Shisha Cut: Short cut, dark brown in color, very juicy.
Smell & Flavor: The smell out of the box is a nice citrus scent, more like a tangerine than an orange. The flavor was very unique and it had an earthy orange taste rather than being too sweet tasting.
Smoke: Al Tawareg Tangy Orange produces great clouds and smoke quality with no harshness.
Buzz: Very slight buzz.
Duration: 45-60 minutes in a standard clay bowl.
Overall the Al Tawareg Tangy Orange shisha offered a great earthy citrus taste with great smoke quality. We look forward to what else Al Tawareg has to offer!
Rating:





You can buy Al Tawareg Tangy Orange from Hookah-Shisha for $2.45 [50g]