Mya Saray Bambino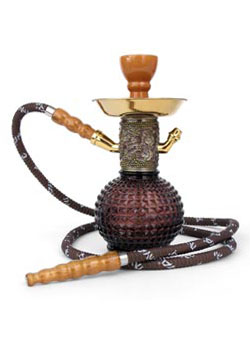 Mya is known for their superior quality hookahs, and the Mya Bambino is no exception! Standing at 12″ tall it's one of the shortest hookahs on the market, but provides surprisingly good smoke quality.
Don't let the size of this hookah fool you! The Bambino is made by Mya Saray who is well known in the hookah world for their long lasting high quality hookahs. The Bambino is great for someone looking for a table-top or portable hookah.
The base of the Bambino is very unique, almost a work of art. The base comes in a variety of colors, such as blue, sky blue, green, pink, and black. You also have a choice of shaft color, coming in either gold or silver.  (See Below)

The hose that is included with the Mya Bambino is a standard Mya hose that is 72″ in length. The hose is very durable and very flexible, allowing for ease of use during your smoking session and should easily last the life of your hookah. Unfortunately these hoses are not washable so we recommend using the Nammor hose.
The bowl included with the Mya Bambino is a standard clay Mya bowl. Depending on the retailer you purchase it from, it will either come with a matching colored bowl, or a standard black or brown bowl, it varies from store to store.
Overall the Mya Bambino is one of the best small-sized hookahs on the market, next to the Mya QT of course. The Bambino offers superior smoke quality for it's size and has a great style and unqiue design that will make this hookah stand out in your collection.
Rating:





You can purchase the Mya Bambino from Hookah-Shisha for only $54.95.
Free with Order:
Two 50g Boxes of Romman Shisha, 2 rolls of quick-light coals, pack of foil, wind cover, bowl screen, tongs, cleaning brush, mouth tips & filters.