Khalil Mamoon Tall Tri-Metal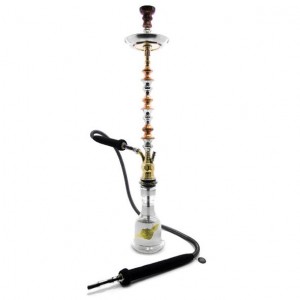 Imported from Egypt, this Khalil Mamoon hookah offers a choice of 3 base options and the stem consists of three colors, and provides an effortless draw of smoke.
With this hookah you are given three choices for the base. Your first choice is clear and gold, which has a gold emblem with partially transparent portions on the base. Your second choice is blue and gold, which features blue glass traditional Egyptian design in gold. Your third choice is black and gold, which features black glass with traditional gold design.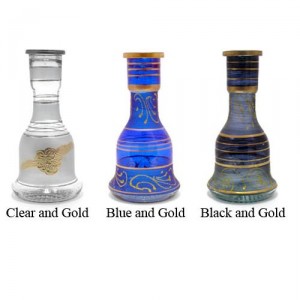 The stem of this hookah is tri-metal, consisting of gold, silver, and copper design. The steam features a flawless purge valve that works perfectly right out of the box.
The hose is a standard Khalil Mamoon black hose that is 72″ in length and has a 12″ handle. Khalil Mamoon hoses are know for their easy pulls, and this hose is no exception!
The tray sits firmly on the stem and catches the ash perfectly. The bowl is a standard ceramic bowl and sits snug on top of the included bowl grommet.
Overall this hookah is one of the finest Khalil Mamoon hookahs on the market, it's handmade bases provide added beauty and elegance to this wonderful genuine Egyptian hookah.
Rating:





You can purchase the Khalil Mamoon Tri-Metal Hookah from Hookah-Shisha for $159.95
Free with Order:
Two 50g Boxes of Romman Shisha, 2 rolls of quick-light coals, pack of foil, wind cover, bowl screen, tongs, cleaning brush, mouth tips & filters.